Tindall's success is deeply intertwined with its surrounding communities. Over the last 60 years, collaboration and the cultivation of meaningful relationships have been instrumental in our growth, and we believe that a shared passion for service, both on and off the clock, not only fuels positive change in our communities but creates a stronger and more successful Tindall.
While many of our employees are actively engaged in local causes, none exemplify the spirit of volunteerism quite like Honey Abercrombie, a Payroll and Billing Clerk at Tindall, who helps lead numerous community service initiatives through Tindall's charitable arm, Tindall Gives Back. So, as we continue to celebrate our 60th anniversary, it is only fitting that we take a moment to acknowledge the contributions of employees like Honey, who have not only played a pivotal role in shaping Tindall into the thriving business it is today but actively work to ensure its neighboring communities are the best they can be. Here's her story:
Honey Abercrombie on Tindall and Community Service
Honey Abercrombie, a mother of two, proud grandmother of four, and happily married wife for over 40 years, has always been drawn to the idea of giving back to her community. "We are all a part of our community in one way or another," says Honey. "Whether it's preparing meals for the homeless, reading stories to children in hospitals, or simply being present for our elders, giving back and pitching in wherever needed only ever improves our communities."
For years, Honey dedicated her spare time to volunteer work wherever possible, but it wasn't until she began working with the First Federal Bank of South Carolina that she had the chance to integrate this passion into her professional life. "The first program I participated in was the March of Dimes when I was pregnant with my second child. I took on the task of organizing the entire Spartanburg team, with the extra responsibility of visiting businesses throughout the city to ask them to sponsor. It was challenging but incredibly rewarding."
Later, Honey collaborated on a cookbook project with First Federal, raising funds for the American Cancer Society walk. This experience would pave the way for her first volunteer effort as a part of the Tindall team: supporting the American Cancer Society once again.
When Honey joined the Tindall team over 15 years ago, she was immediately struck by the company's unwavering commitment to community service. "Tindall has always believed in giving back through education, culture, and sponsoring events," says Honey. "Each of us plays a part, and we have dedicated countless hours of service to various causes over the last 60 years. It's remarkable, and it really shows how committed Tindall is to its core values and mission."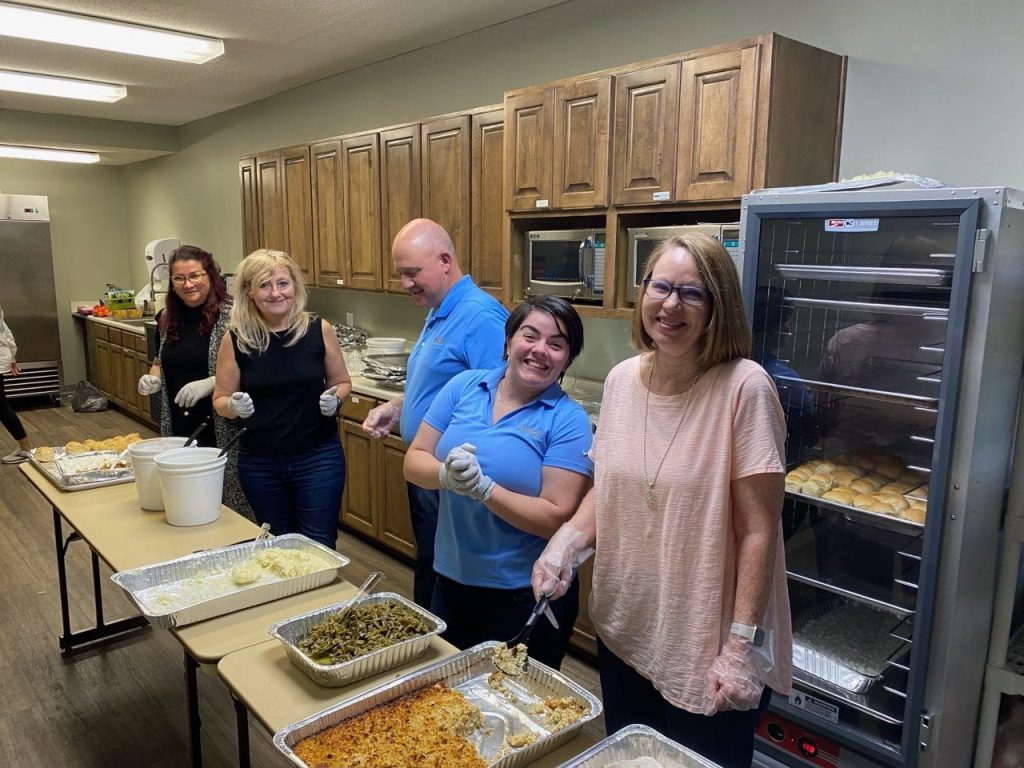 Engineered to Serve
For Honey, "Engineered to Serve," Tindall's central mission statement, means "Making Things Happen." By leveraging the expertise and passion of Tindall Gives Back, an internal committee dedicated to identifying volunteer opportunities in surrounding communities, Tindall has successfully contributed to causes such as Mobile Meals, St. Luke's Free Medical Clinic, the Carolina Pregnancy Center, the Spartanburg YMCA, and more. Through this, Honey believes Tindall is effectively utilizing its resources to create a lasting impact on nearby communities. "Tindall gives us an incredible opportunity to give back through volunteering. By rallying our committee to support our communities, we are making a difference, one life at a time."
Because of employees like Honey, Tindall is making an impact not only in Upstate South Carolina but in communities across the nation where a Tindall division is present. Being "Engineered to Serve" isn't just a slogan; it's a living commitment that is reflected in everything we do, so as we celebrate our 60th anniversary, we celebrate Honey and all the Tindall employees giving back to make their communities better.
By fostering a culture of growth and assembling a team of individuals who not only take immense pride in their work but also in the well-being of their neighborhoods, Tindall continues to lead the precast concrete industry with innovative solutions. Our accomplishments are a direct result of their dedication, and we are profoundly grateful for our exceptional team members and their remarkable contributions.